Here is the stunning chapel style beach house of Jetcharm Barbershop owners Shaun and Cassie Conaglen of New Plymouth. Shaun who is a master builder and had a vision that this new addition to their family home resemble the old mission houses built when European settlers first arrived to New Zealand.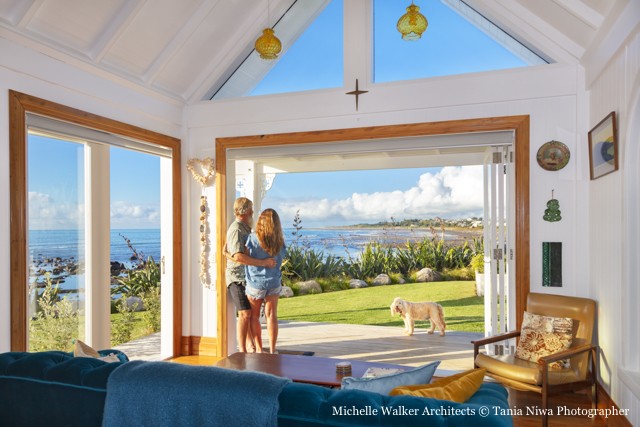 This beautiful new building sits adjacent to their single storey weatherboard cottage and will provide alternative accommodation when their original home is renovated to a Californian-style bungalow.
This very romantic dream addition is a big hit with guests. It can also be hired for wedding ceremonies and as a bed and breakfast known as Little Church Bay which has a five star rating on Air b n b where Cassie is noted as a 'superhost'.
The property is on a triangular block which borders the New Plymouth coastal walkway just below. The city centre is just a short walk/bike ride along the popular walkway with views of the Tasman Sea.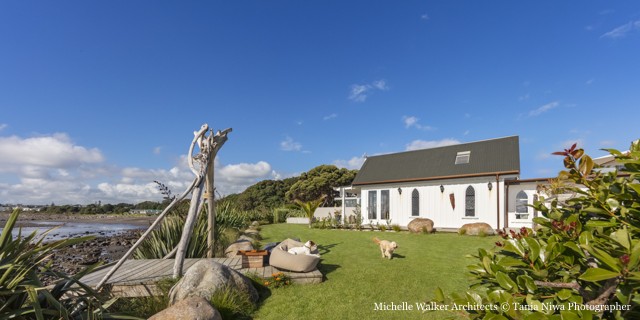 FROM MANLY TO NEW PLYMOUTH…
Shaun and Cassie lived in Manly on Sydney's Northern Beaches for three decades before relocating home to New Plymouth five years ago with their two daughters. New Plymouth is a popular tourist destination with a population of around 74,000 people in the province of Taranaki on the mid west coast of the North Island of New Zealand.
My connection to the Conaglen family started in Sydney with the arrival of their first daughter, when they commissioned toddler portraits in 2000 and ten years later family portraits taken at Freshwater Beach. We also enjoyed living in the same suburb at North Steyne, Manly Beach.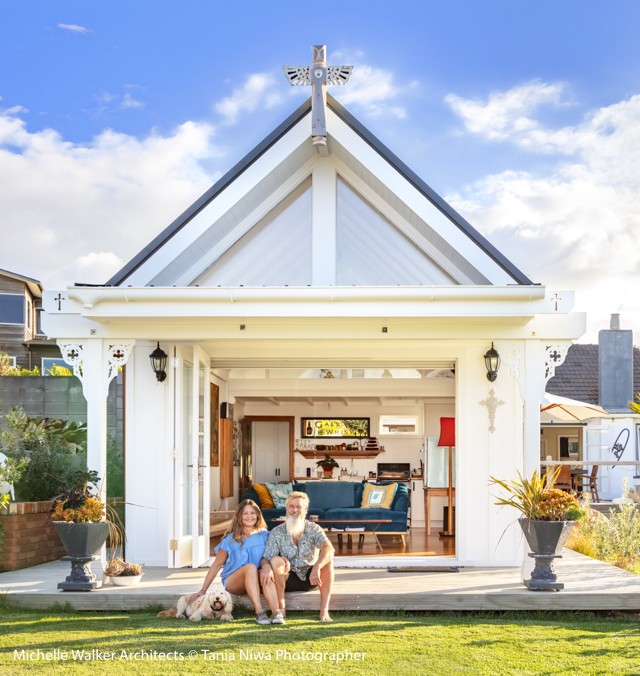 Shaun and Cassie with their much loved spoodle, 12 year old Nando who was an epic model who always knew when to appear for a photo 🙂 Sadly, Nando has since passed away (:
ARCHITECT AND BUILDER…
In 1999 while in Sydney, Shaun and Cassie founded Jetcharm Builders. The company developed an epic reputation on the Northern Beaches and North Shore for their superb skill as builders for architecturally designed home renovations and building solutions.
Jetcharm Builders worked exclusively for Michelle Walker Architects (MWa). With this strong working relationship between builder and architect, Shaun entrusted MWa to design their dream home back in Taranaki.
MWa commissioned this architectural photographic assignment to showcase in their online folio.
MWa is located in Balgowlah, near Manly. Like the Conaglen family I have also worked alongside Michelle Walker since 2001 as her family and architectural photographer.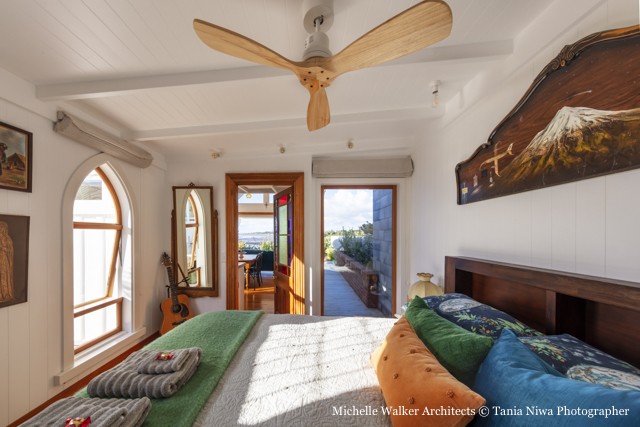 LITTLE CHURCH BAY FEATURES
Features include a high pitched roof resembling a small chapel, a small mezzanine floor which offers an alternative loft style sleeping area (such a novelty to climb up the ladder and enjoy the architecture and coastal view); bi-fold glass doors opening out onto stunning Northern coastal views of East End and Fitzroy Beaches.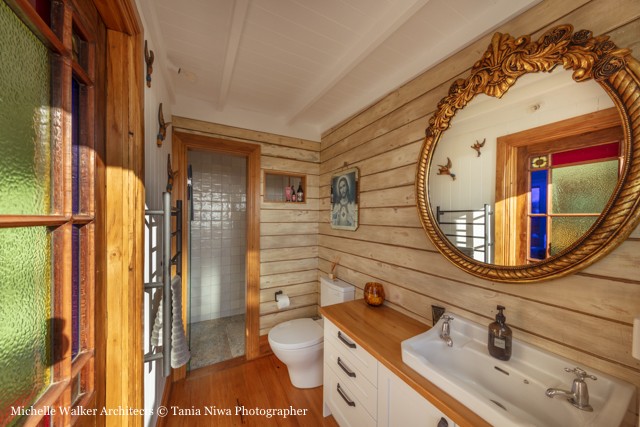 Another feature are the meticulously restored gothic framed lead-light windows which Shaun sourced on gumtree from a demolished building near Geelong, Melbourne.
Shaun has used recycled timbers, windows and doors. Some of the architraves and a door jam came from the locally famous old Victorian style two-level White Hart Hotel built in 1886.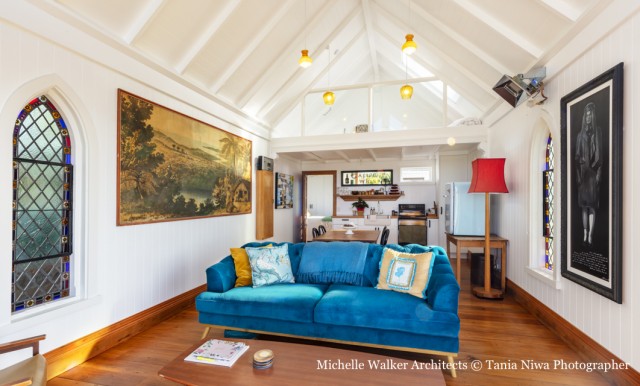 A large scale replica painting hangs on the eastern wall which came from the old Ngamotu Tavern. It shows a scene from the 1800's of Maori people alongside what is thought to be the Mimi river in North Taranaki.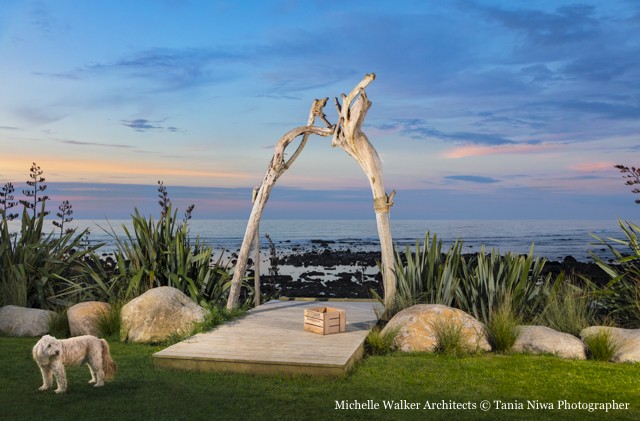 This beautiful archway, deck (above) and signage (below) have also been created by Shaun. The archway was built for the first wedding held here for Shaun's sister Claudia Conaglen.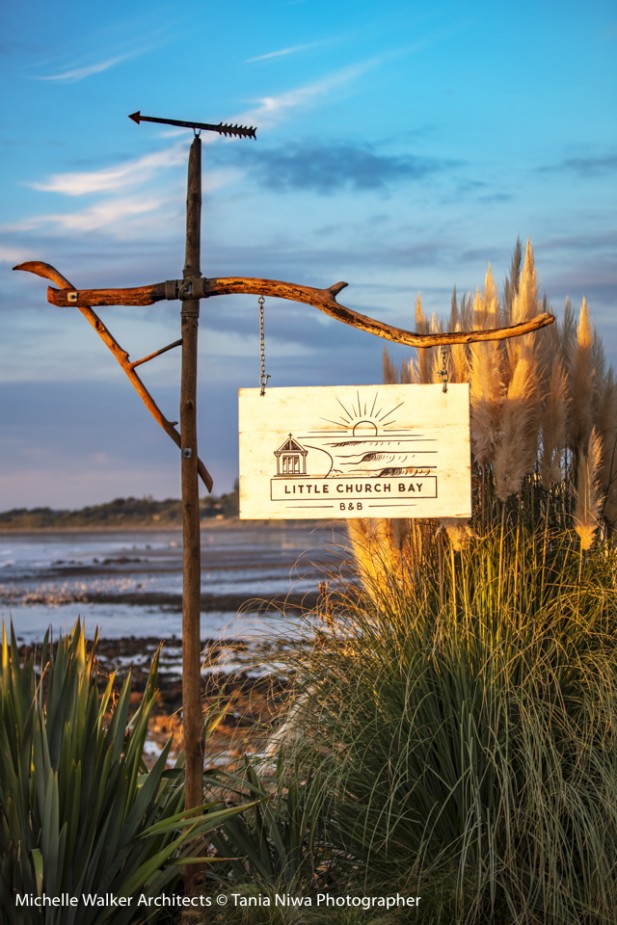 Check out Michelle Walker Architects folio and see a 3d animation of the Conaglen's home design for this location, (3d animation is at the bottom of the MWa page). To contact Michelle Walker call Mb +61 421 088 110 or email

GET IN TOUCH WITH TANIA NIWA
If you are an architect, builder or interior designer and would like to discuss photographing your latest projects please call or email Tania.
NZ +64 27 599 7556 | AUS +61 41 999 7556 www.tanianiwa.com
Tania Niwa GRAND MASTER OF PHOTOGRAPHY AIPP | FELLOW II NZIPP
BRINGING IMPACT, ENERGY and CLARITY to your BRAND
New Plymouth Photography studio:
Mad Media, 1st Floor 44 Liardet St, New Plymouth, Taranaki 4310
Sydney Photography Studio:
Unit 10 Bldg A, No 148 Old Pittwater Road, Brookvale NSW 2100