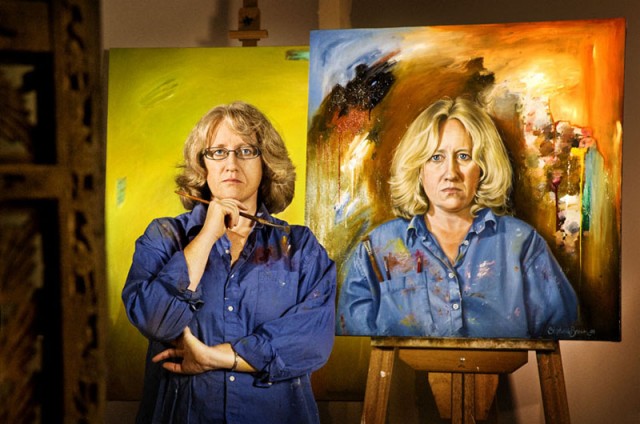 My portrait of artist Stephanie Brown with her own self portrait.
Stephanie thought it apt to call this image "My former self". I received a GOLD DISTINCTION at the NSW State Professional Photography Awards recently. Judges were unanimous in awarding the image with the distinction scoring 97 out of a possible 100 points, (which doesn't happen very often).
One judge, Daniel Capobianco was fascinated at the composition. He commented that having Stephanie perfectly set in front of another painting gave the impression that she was in fact a painting too. He also noted that her assertive stance with her arms like and 'A' shape mirrored that of an easel.
Another respected guest judge from QLD Ian Poole commented that the wooden screen on the left draws the viewer into the image and acts as a frame for the portrait, and that the image was very 'real and honest' (and not giving the feeling of being highly retouched, which it certainly wasn't).
Stephanie and I decided to use her garage as the setting for her portrait which had just had walls patched ready for painting. Just like Stephanie has transformed in her personal self confidence in her ability as an artist, her garage is about to be transformed into a beautiful working studio/gallery space. It seemed like the right place to use as her setting.
For interested photography enthusiasts here's how I set my lighting… I used three lights: a snoot on Stephanie (placed to the left side of her and up high pointing down to her) that also spilled onto the painting to let the painting glow, on the right side behind me I positioned a simple umbrella on a flash head to fill in the shadow area created by the snoot, on the lime green painting behind Stephanie I used a grid (looks like honey comb) on the flash head.
Thanks Kayell Australia for letting me try to grid set – a must have for any studio kit.