Meet Morgan, a beautiful 3 year old Bengal cat owned by North Shore Vet Laura Moore and her husband. In order to capture Morgan at his most relaxed and in his own environment we set up our portable studio and photographed him at his very cool Cremorne 'pet palace'.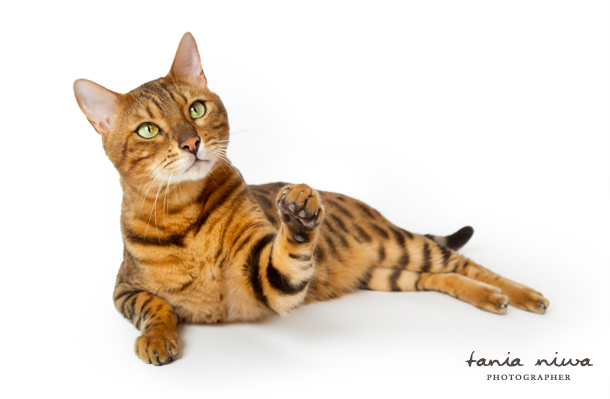 Researching Bengal cats you can instantly see how beautiful they are in photographs with their desirable 'wild' look with large spots and rosettes, but it is not until you see one up close and in person that you catch what truly majestic animals they are.
Bengals are a hybrid breed of cat, formed by crossing domestic felines and Asian Leopard Cats Prionailurus bengalensis which is where the 'name Bengal Cat' was derived. The name is not actually derived from Bengal tigers as one might expect.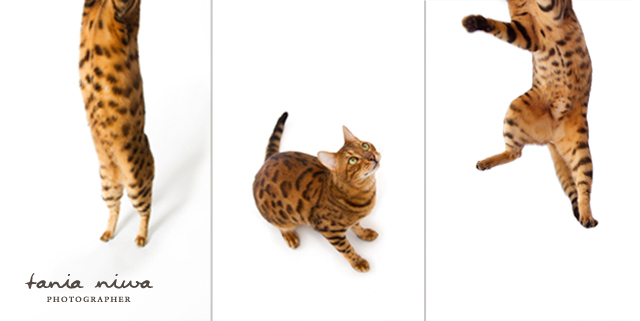 In the series of photographs above, my assistant Montana played fishing games with Morgan. His superb athletic ability to jump and stretch was absolutely impressive and incredibly exciting to capture!
Laura describes Bengal Cats as quirky, interactive and super fun but also needing lots of attention. She commented that you can't leave them alone for too long, hence Laura has made her home wonderfully entertaining and fun for Morgan.
Morgan's home sports an impressive cubby house with a mini maze, an indoor cat tunnel, a floor to ceiling cat climbing post with spiralling steps and a cat water fountain on their verandah – everything a cat could desire! To see a hilarious image of Morgan see our Niwa Photography facebook wall http://www.facebook.com/niwaphotography