Personal branding is a crucial part of any successful business, showcasing what is unique about you to your potential market. Here is a case study about a Sydney interior decorator we created a photographic portfolio for, which reflects her unique style and talent.
Northern Beaches Interior decorator Anna Allen has joined forces with Sophie Duffy, founder of The Dressed Nest, Mosman. Having already worked with Sophie, and understanding her needs, the idea was to maintain the consistency and the same personal branding philosophy as displayed on The Dressed Nest website launched last year.
With this in mind we set about to create a portfolio showing a selection of Anna's recent designs.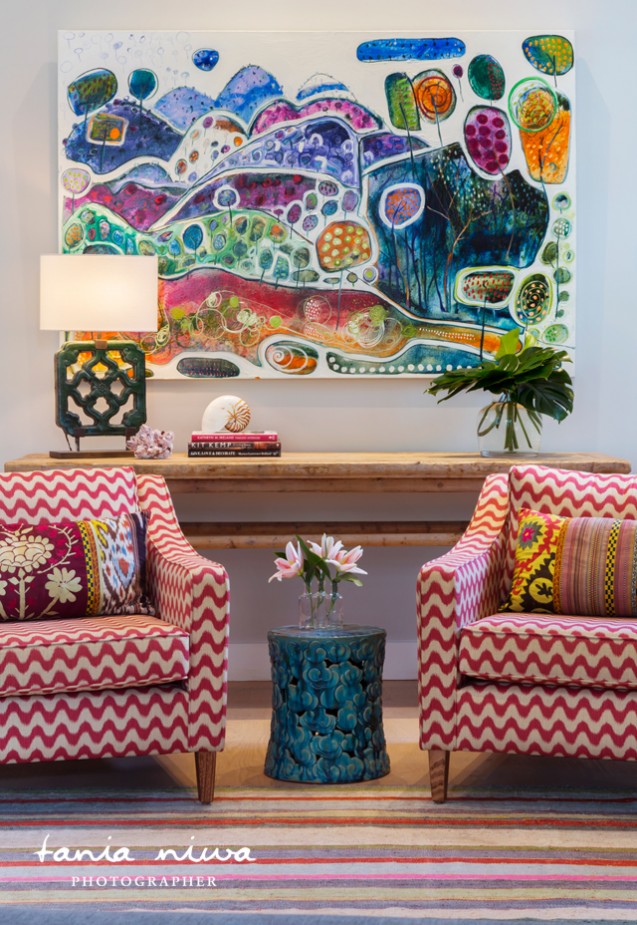 What did you want to convey from a portfolio point of view?
"I wanted the photos to showcase my use of colour, pattern and texture in particular. I was more interested in capturing a vignette rather than an entire room in one photograph." The growth of the business prompted the need to showcase Anna's work and this required a tailored portrait for their website to highlight her style and flair.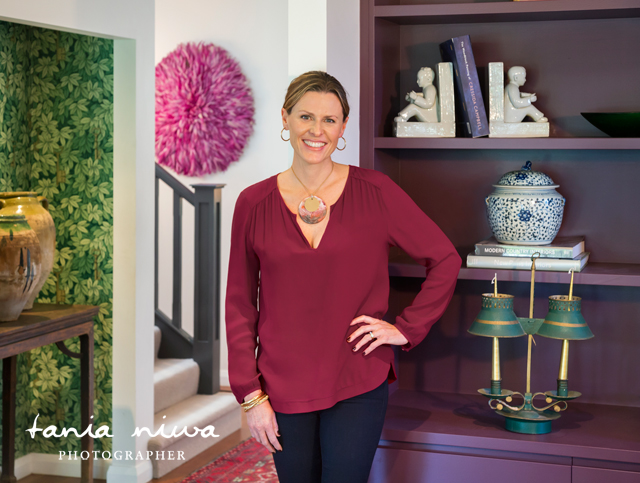 Why was a business portrait important for your personal branding?
"I wanted a warm and authentic representation of myself in my own surroundings and we chose a location in my own home that could do this. It needed to be both a warm and professional photograph of myself whilst also offering a view into my signature decorative style."
We wanted to surround Anna with key decorations and design elements within her own home for example, her textured green wallpaper with worldly ornaments and the vibrant Bamileke, a traditional Cameroonian feather headdress.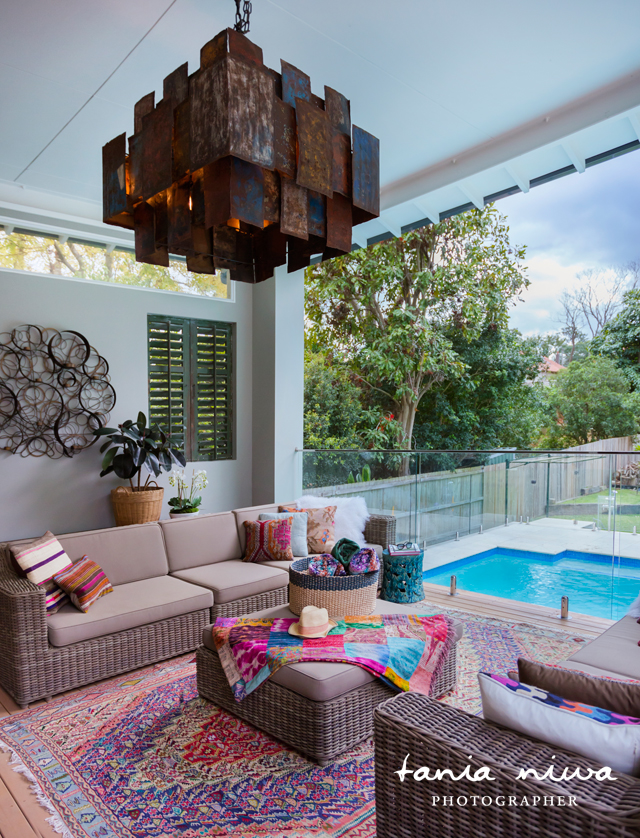 Anna's approach to Interior Decorating:
"I have always been inspired by how interesting and beautiful interiors can uplift our senses. How a space feels, looks and functions is important to me – to want to look, linger and not rush through a room is central to my designs.
I enjoy fusing charming and historical pieces with more modern and interesting objects. Colour, textiles and art, rugs, family, friends and travel all inform my designs. I am like a Bower bird, I am always searching for individual and interesting pieces to bring a uniqueness and warmth to each interior.
A home should be welcoming, timeless, functional, and of course, beautiful. I see my role as translating a client's ideas into a fully functioning space reflective of them and how they choose to live."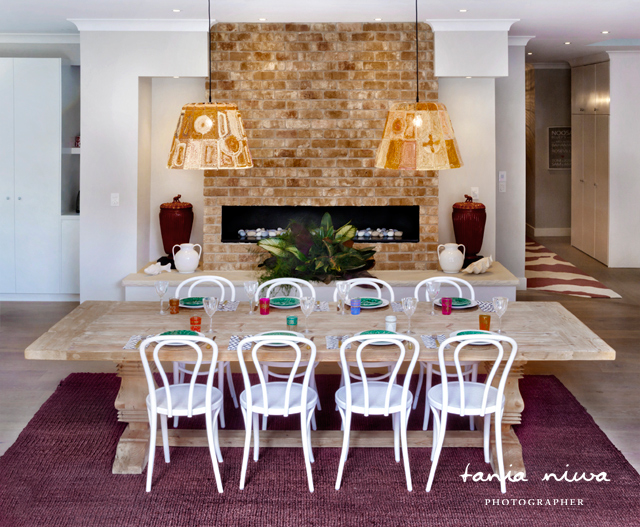 Below is a newly refurbished boutique store in Mosman called Burke. Here Anna wanted to feature the special lighting she chose and also see a glimpse of the wallpaper.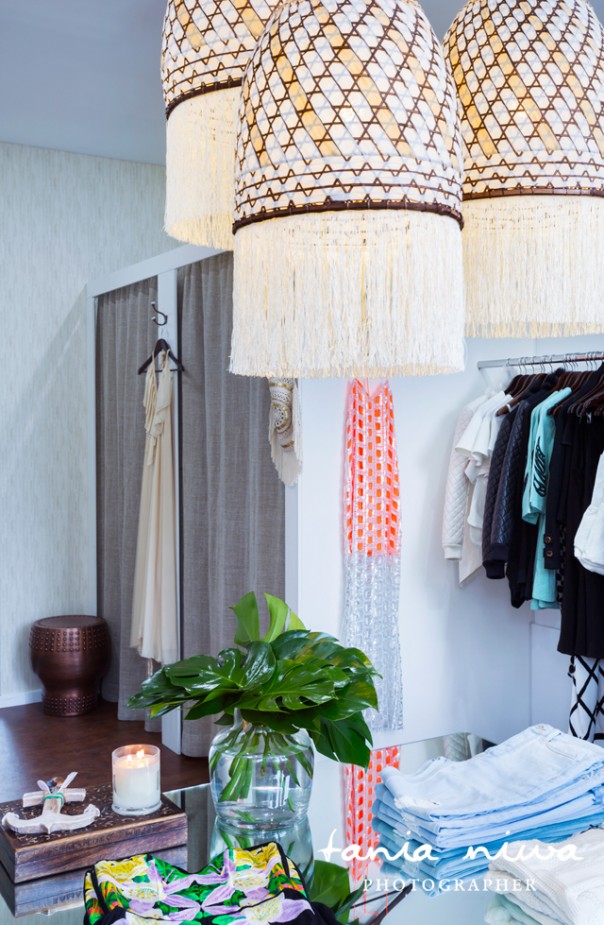 Testimonial from Anna Allen:
"I could not have been more impressed with Tania's professionalism, dedication and natural talent. Her attention to detail is second to none, she puts her heart and soul into every shot and not a moment was wasted trying to convey my message, she just gets it immediately. I'm really looking forward to our next shoot together."
To view Tania Niwa Photographer portfolio please click on these links Interior and Architectural Photography, Business Portraits Website. Available for photography assignments in Sydney, Auckland, Taranaki, Hamilton, Wellington, Coromandel, New Zealand. For enquiries please contact our Brookvale, Northern Beaches Professional Photography Studio: +61 2 9939 5553